Today, I placed an order for four 7"x15" and seven 5"x12" portlights from New Found Metals. Tomorrow, I start pulling off the old (plastic, leaking, cracked, seriously broken) ports and preparing for the install of all new, stainless steel replacements.
Pictures and commentary will be posted.
I'm going to add "part 1" on the title of this entry because I'm expecting to have more and more devices on the NMEA 2000 bus and will give samples as I go.
For now, here's what I have: Garmin GPS 19x and Actisense NGT-1 (USB)
From CanBoat (n2kd), there are 3 active outputs (via TCP streams):
2597 - The latest message from all sources received within the last 120 seconds and AIS and SonicHub data received within the last 6 minutes.
2598 - No processing, just a real-time stream of NMEA 2000 data
2599 - As NMEA 2000 messages are received they are checked to see if it there is a known NMEA0183 equivalent and if so the NMEA 0183 string is sent
Sample of 2597:
Here
Sample of 2598:
Here
Sample of 2599:
Here
I've added a new page that describes the First Sailing of Loafer's Glory while I've owned her.
I was planning for the post to be just a normal blog entry, but as I continued to extend it, it grew beyond an appropriate size for the main page..
I present: First Sailing
Soon, Loafer's Glory will have a dedicated GPS connected to the VHF radio, allowing automated distress calling (DSC)
Due to the complexity of the NMEA 2000 network, relying on it when everything is going wrong is a bad idea. Loafer's Glory has a VHF radio on its own power circuit and will soon have a Uniden MRN-GPSK providing the radio with GPS data. A single flip and press will transmit a distress call with identifying and location information.
The boat also has an Emergency Position Indicating Radio Beacon (EPIRB) for even more desperate situations.
She's pretty ... just wait until she gets cleaned up.
I've replaced all of the lights in the saloon with LEDs.
The nav station lights have a "hard" switch. The lights behind the seats are controlled with motion sensors and have dimming capabilities.
I've also replaced the lights in the v-berth with a set of LEDs similar to the ones at the nav station.
This update makes the entire boat "light up" as never before.
All of these LEDs came with wall-wart transformers that took 110v and pushed it down to 12v. It's so nice to have a 12v system where I can cut the transformers off and connect the LED strands directly into the existing wiring.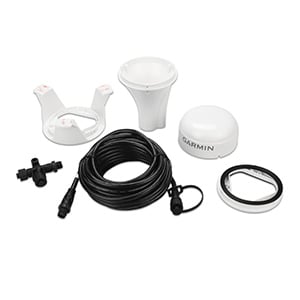 I've begun the installation of an
NMEA 2000
backbone.
I started with the Lowrance NMEA 2000 starter kit that provides the power tap, a couple of T connectors, 2 pieces of backbone and the required terminators.
I've added a Garmin GPS 19x and an Actisense NGT-1 USB to the bus at this point. This combination allows me to test the backbone and see real-time data.
I've been able to connect to the backbone from a Debian instance using CanBoat. The documentation is pretty horrid, but it turns out that once it's up and running, you can read data from TCP ports as follows:
2597 - JSON (30 seconds of data)
2598 - JSON stream as received
2599 - NMEA0183 stream
I was able to use OpenCPN to correctly plot the location of Loafer's Glory using GPS data transmitted over NEMA 2000 to the USB gateway to a Virtual Debian system where it was converted to TCP by CanBoat... A long passage for vital data.
Future additions that I'm looking at:

2017-10-22 by Alan

Loafer's Glory had a table/bed in the saloon, but the legs were completely rotted away. I replaced the legs with a single Quick-Release Table Pedestal System.
The sole is so warped at this point that the table isn't stable - if you fell onto it, I'm positive that the table would break loose from the floor.

2017-10-21 by Alan
Loafer's Glory came to me with a VacuFlush head. The system was not "USCG Legal" in that it had no functional holding tank. Whoever took out the original plumbing replaced it with the head, a Y-Valve and a holding tank that had no pump-out connection.
Great. If you put anything into the tank, you have to remove the tank to clean it out.

Having read nightmare stories of failed plumbing, issues caused by people flushing toilet paper, macerators that decide to quit macerating and problems finding pump-out stations around the world, I decided to look at alternative methods of human waste disposal.

After a good amount of research, I decided on the Nature's Head (self contained) Composting toilet.

This toilet has been used in RVs, tiny houses and in boats for a number of years. The concept is that liquid waste and solid waste are separated as they leave the body. The liquids are stored in a 2.2 gallon tank and the solids are mixed in with peat moss or coconut coir. The liquid tank can be emptied as needed (ever 3-4 days when used by 2 people) and the solids are emptied ever two months. A constant flow of air is pushed over the solids and vented to the outside.
The vent is not permanent, but allows me to have a functional toilet, so it's worth it.

So-far, so good.

2017-09-30 by Alan, tagged as

wi-36

Alex owns a Heritage West Indies 36, Bob - a brother (?) ship to Loafer's Glory. Enjoy the Voyages of Bob